Understanding the basics of
dental implants
No one wants to lose their natural teeth, but sometimes accidents happen. If you find yourself in such a situation, you should seriously consider dental implants. Unlike other tooth restoration options, dental implants function just like real teeth.
At High Dental Implants, we provide many treatment options for patients who wish to replace their missing teeth with a dental implant in Melbourne. Whether you're missing one, several or all of your natural teeth, we can create a customised implant treatment to fit your individual needs.
What exactly is a dental implant?
A dental implant is a small, titanium post that is designed to act as a replacement tooth root once placed into the jaw bone. A dental implant in Melbourne is used to replace one or more missing teeth and because it's made of titanium – a metal that has the ability to fuse with body tissue, like bone – it will stay firmly in place.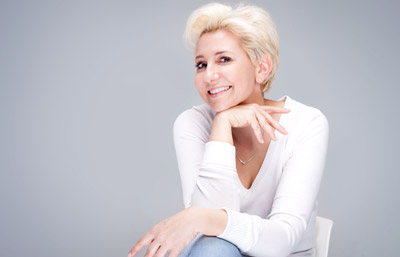 What about the procedure?
Dental implant surgery is not as ominous as it sounds – in fact, it can be completed in less than an hour if you only need to replace a single missing tooth with dental implant treatment in Melbourne. The entire procedure is pre-planned with the aid of technology, allowing your dentist to know the exact spot of your dental implant(s) in your mouth.
Once the implant is placed in the jawbone, it will be left to fuse with the bone tissue for a specific period of time. During this period, osseointegration will occur, meaning that the dental implant will attach itself to the jawbone. This biological process can take from a few weeks to several months depending on the total number of dental implants placed and the quality of your jawbone.
Following a successful healing period, your dentist will attach the replacement teeth to your dental implants. In some cases, these replacement teeth can be placed on the dental implants on the day of the surgery.
Not sure?
Whether you want to replace one or several teeth, dental implants are a great and functional alternative to dentures and bridges. To learn more about our implant treatments and how they can help you, contact us today.
Get to know your implant dentist
If you are looking for dental implants in Melbourne, make sure to find an implant dentist you can trust. Implant surgery is a complex and lengthy procedure, and it's wise to find an experienced clinician with a long track record of successfully placing implants.
Here at High Dental Implants Melbourne, implant surgery is carried out by Dr Nicholas Hii. Dr Hii has been a dentist for 13 years, and in that time he has carried out hundreds of tooth implant operations. He graduated from the prestigious London School of Medicine and Dentistry in 2006 and has also studied aesthetic dentistry at King's College London. Nicholas is continuing his education by studying for a Masters' in Oral Implantology at Goethe University in Frankfurt, Germany.
Nicholas has two passions in dentistry: patients and technology. For Nicholas, the joy in placing dental implants in Melbourne is not that he restores teeth, but that he restores a smile, and with it, a patient's confidence. He loves nothing more than to see a patient walk out with a new-found spring in their step because once again they have a smile they can feel proud of.
Part of the High Dental Implants Melbourne philosophy is that we aim to create sustainable and long-term relationships with our patients, not just perform one-off treatments. To do that, we get to know you, your worries and concerns and your dream outcome for your smile. For Nicholas, getting to know his patients in this way helps him to serve them better.
The technological developments in implant surgery are progressing in leaps and bounds and Nicholas stays abreast of the latest developments through his studies and other continuing professional development. From computer-guided surgery to a new generation of intraoral scanners, there is always something new in the world of implant dentistry to discover.
Not sure if we are the implant practice for you? Drop into our surgery and have a chat with Nicholas about what you would like to achieve with dental implants in Melbourne. He'll explain the process from start to finish and answer any questions you have about dental implants in Melbourne. He'll help you to achieve a healthy, happier smile.
What's the best time to get dental implants in Melbourne?
If you have one or more missing teeth, then you already know it's important to replace them before they cause serious problems. Even a single missing tooth can affect the alignment of your teeth and your oral function. Not to mention that missing teeth can cause tooth loss. Luckily dental implant procedures can help prevent all these problems
If you are not familiar with dental implants and how they work, our helpful team at High Dental Implants is ready to answer all of your questions. Simply book a consultation appointment and find out if you are a good candidate for dental implants.
Should I remove my decayed teeth and replace them with implants?
If your teeth cannot be saved, your dentist will recommend removing them and replacing them with dental implants. Having dental implants immediately after extraction is ideal because your jawbone will not have started deteriorating. Moreover, at High Dental Implants, we review your oral condition and we use gentle techniques to remove your failing teeth, ensuring that the bony socket around them is preserved intact.
Immediate dental implants
If you opt for immediate dental implants in Melbourne, we will insert one or more dental implants into your jawbone after removing your natural tooth or teeth. This solution is ideal for patients whose jawbone has not deteriorated significantly and their socket is intact. If your gums are affected by the extraction, you will be advised to wait for a couple of months before having your implant or implants placed into the jawbone.
What if I am already missing teeth?
Most people consider dental implants after losing a tooth or more. In this case, our experienced dentists will examine your mouth carefully and determine the quality and quantity of your jawbone. If your bone tissue has deteriorated, there are still options involving treatment with dental implants such as a bone graft. Our highly experienced dentists will ensure that every treatment is a complete success, therefore they will suggest an individual treatment plan for each patient.
Providing quality implant treatments
Are dental implants in Melbourne right for you? To learn more about implant treatments and costs, don't hesitate to call us today.
Can I have dental implants?
Do your missing teeth make it difficult for you to enjoy your favourite foods? Life without a functional set of teeth can be challenging. While there are several options that can help restore your smile, a dental implant might be the most viable solution, since it is a replacement for your tooth roots. However, how can you know if you can have this treatment?
At High Dental Implants, a dental implant in Melbourne is ideal for patients who have lost their natural teeth. Our experienced dentist will examine your teeth thoroughly and help you decide if you are a good candidate for this treatment. Most patients can have a dental implant in Melbourne as long as certain criteria are met.
Healthy Gums
Healthy gums are really important when it comes to dental implants because if you have gum disease, an infection could easily develop around the implant, leading to complications and implant failure. Even if you have active gum disease, you can become a suitable candidate for dental implants once your condition is treated. Good oral hygiene and maintaining your oral health helps to increase the success rate of keeping this new artificial tooth.
Good Oral Habits
Dental implants will restore your smile, but they will not stay healthy on their own. Patients with dental implants need to be more careful so that their dental implants stay in great shape. If you are in the habit of brushing at least twice a day, flossing regularly, and visiting your dentist at least every 6 months, there is a good chance that you are a good candidate for dental implants.
Adequate Bone Density
Dental implants are surgically inserted into your jawbone, which means that your bone needs to be strong and dense enough in order to support these restorations. If your bone density is poor, you might have to go through extra steps before having implant surgery or you may be eligible for a specialised implant treatment such as TeethXpress Implants or denture stabilisation.
Overall Health
If you have any conditions that could hinder your ability to heal properly after surgery, then dental implants might not be a viable option for you. For instance, if you have diabetes or heart disease, you will need to control them before having implant surgery.